In the hospitals they were initially treated as another way to pass the time to the patients.
It took time for the medical staff to understand the important role of the spiritual accompaniers: to restore to the patient his lost honor, and especially to help the dying to deal with evil, and to share their separation from this world.
"It's like a pool where the patient is afraid to jump," says the escort, Rachel Shavit.
"If I jump first, it will look different to him"
The head nurse of the Internal Medicine Department calls me in. She says that they have a patient who has been in a very bad condition for several months, and his wife is in a serious crisis, crying and shouting nonstop, asking if I can come and try to talk to her because the staff is helpless. "I say, 'No, I do not see a madwoman, but someone who is afraid of losing her husband, I see great sorrow and pain.'" Then I start talking to her and just stay where she is. It's nice to be close to people in these places, but that's what makes spiritual mentoring unique, we do not try to analyze the situation or change it, we just choose to be "Explains Hila Ashchar, 49, a Haifa resident.
And what happens "there"?
"There is a deep connection between my vulnerability and her vulnerability, she is broken, I too have breaks, so there is some kind of human partnership … True, I do not lose my partner right now, but I experience separation, I share this human place. Compassion, love and kindness, and in a sense he is a healer. "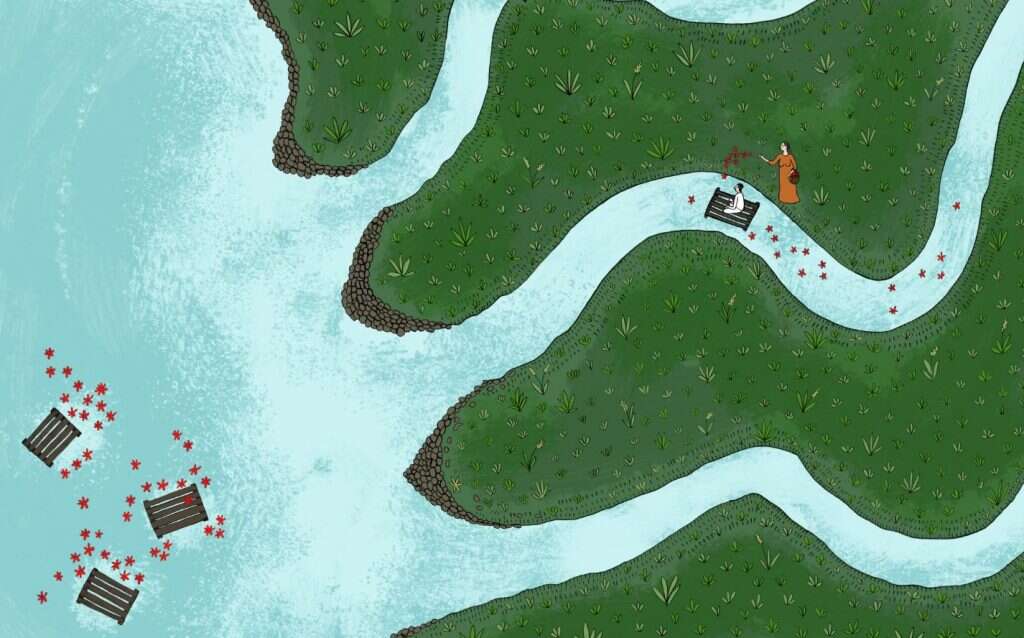 Ashchar is also involved in training the future generation of spiritual care providers, as part of the Schwartz Institute for Health and Spirit.She and her colleagues stay with sick and elderly people in 10 hospitals and several dozen old age homes, and the distribution is expanding. They offer their services in departments that treat the most serious diseases, in the hospital rooms and in the waiting corridors. Sometimes they remain attached to their loan even in moments of death. When I ask Ashchar whether the spiritual companions do not crash themselves, she replies in the negative. "The people who come to the profession are solid, mature, and emotionally and spiritually observant, not a profession suitable for people after the army, and at least 90 percent of the escorts have passed the age of 50. The main work is not about techniques and methods, but an inner work of reflection, The values, the coping of each of us with difficulty, suffering, illness, and from this personal work we learn to bring the most open presence.
"I will say more than that: Not only do we not crash – it even elevates us, but the more open I am, the more elevated the encounter is: there is no pseudonym, there is no window, there is a lot of truth. I do not feel that way – it's better not to go into a patient's room, because I can not be professional, I have to peel layers and be totally there, to be with a person in his suffering and grief when dealing with illness. "
At what stages do patients and their families need spiritual care? 
"In all the points of helplessness, the loss of control over the body, in the difficult moments when they reach harsh ranks, and everything that they have known so far has changed."
And the medical team is not supposed to give the answer to this difficulty? 
"I bring the spirit to the health system, a system based on science, technology and wisdom, and I appreciate it very much, but as far as I'm concerned, the system also needs a spirit, it deals with sensitive and vulnerable people who had a life before hospitalization, The spiritual god, the desire is to see the person, his perfection, his whole being, not to look at him as a disease, as a problem that needs to be corrected … In the opinion of this person, knowledge is in the deep sense, also his heart and soul. .
Hila Ashchar:  "If you do not do this work in your life, it will be very hard for you to do it on the last page that you write, and spiritual accompaniment is not magic, it is an option … Sometimes magic happens, and people manage to do the unbelievable and solve things that hurt or hurt, It 's all right, also leaving a mess.
How does it actually work? Is there a process that needs to be done with the loan to create a deep acquaintance? 
"In some cases, I try to identify the spiritual need and help as best I can, and in the dialysis and oncology departments there is a series of meetings, and then there can be planning. , That in every encounter with her I bring texts that touch her world, so that we build a relationship that has depth. "
As a spiritual companion, she does not try to direct her patients to certain processes, but to be on their side according to their need. "The lender decides what to do, but there is a menu that can be opened: to find out how he wants to die – farewell ceremonies, a spiritual will, to think about dreams, about spiritual development at this time.
But if you do not plan, it can not be a missed opportunity? 
"I can try to aim, and try to push, but if people can not, it will not happen, so what will they do? Sometimes the magic happens, and people manage to do the unbelievable and solve things that hurt or hurt, sometimes not, everything is fine, leaving a mess is okay, people do the best they can.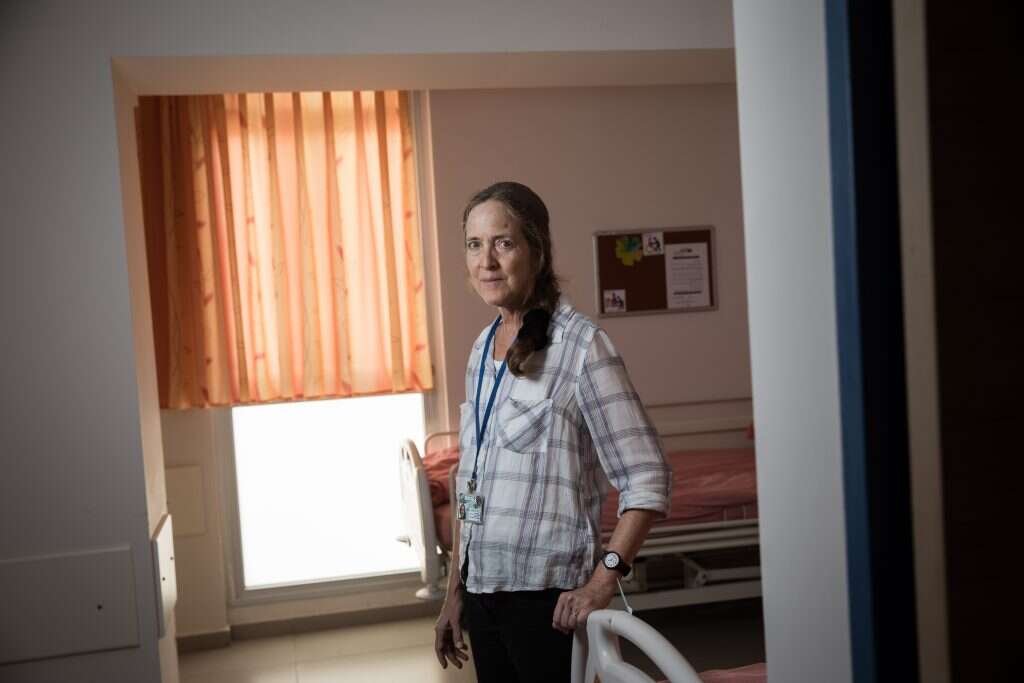 "Our job is to process significant processes and bear the suffering, and there are many patients who feel that they do not want to burden their family members with suffering and fear, because most people do not have great openness. Special barriers, you could do without us. "
Do not call me "cute"
In the United States, spiritual accompaniment has been recognized for 90 years, but here in Israel it is a new and emerging industry. 800 hours of study, including areas such as cultural aspects related to illness and loss, psychological aspects, patient-therapist relationship, and the development of skills of a clean and non-judgmental presence with a person in crisis.
The supervisor of the training and activity of the escorts is the Association for Spiritual Care, the umbrella organization of all the Israeli associations involved in the field. This is a volunteer organization headed by two women – Meirav Grich-Cohen and Neta Bentur. On the organization's website you can find the list of qualified lenders to contact them when necessary. Some of them are volunteers, most of them salaried workers from various organizations. The spiritual care organization aspires to provide support to any patient who needs it, whether he is hospitalized in an institution or is assisted by welfare services.
I meet Rachel Shavit at Ziv Hospital in Safed. I find her in the small emergency room staff, a sandwich in her hand. She looks the opposite of what I expected: a young woman (39) with a knee-length jeans skirt, a cockroach and a hospital badge. Perhaps this is the time to clarify a critical point: spiritual accompaniment is not a "spiritual" matter at all. Those who deal with him are serious and unmoving people.
Shavit, a mother of seven who lives in Safed, works in the hospital on behalf of the "Society – Spirit creates health" association. "We will begin dialysis," she announces, and I understand that this day is not going to be a summer camp, perhaps a particularly strange summer camp.
The department to which we are heading is faced with despair. Any dialysis treatment – during which the blood is drawn from the body, filtered by machine and then returned to the patient – takes several hours. This procedure must be performed three times a week. Even in the optimistic scenario in which a suitable kidney is found for him, she will do her job for several years, and then he will come again, to filter.
"It's not an attractive disease," says Shavit. "There is no 'struggle' here, it's chronic and exhausting, and most of the patients have to stop working, some of them also get divorced because of the illness. We make our way through the ward toward a woman of about sixty. I see the hand attached to the pipes, and the big machine. Rachel sees Shoshana.
Deborah Pinto:  "People who are at the end of their lives understand this, and if they can not talk, it is because we have a lot of young people who do not want to deal with death. It's hard for me to work with them are those who believe that there is nothing beyond death "
"Mentoring is critical to me," says Shoshana, a former social worker. "The team here is great, but when they call me 'cute,' it comes to me, and here comes a spiritual escort and treats me – who I was, who I am, who I am, not the patient, .
"From my point of view, the connection between us is a miracle," says Shavit. "When we met, I was 'ultra-Orthodox,' and Shoshana was a 'kibbutznik.'" This is apparently a gap, but not really, because we focus on the soul and not on the individual.
What do you do in your meetings? what are you talking about? 
Shoshana: "Now I'm busy with a certain thing with the bank, and it takes the call to a practical place, because I'm limited in vision and in the middle of a dialysis procedure, I use Rachel.
Shavit: "Many of the patients have a feeling that they are not worth anything because they no longer contribute to society or to the family, so I check with them what they have contributed and what function they fill today, even when the body is broken. First we talk about the fears, the happiness he brings to her, the passage of generations. "
Shoshana: "My grandson is five months old and a week ago he was with me, and for the first time he actually looked at me, as if he was suddenly beginning to recognize."
Sometimes Shavit brings to the meeting a poem she read and reminded her of Shoshana. They sit together, talk about the song, and develop a meaningful conversation. "There's also a medical clown here who helps other people, but I personally do not know how to treat him," says Shoshana. "I express myself in words, so someone like Rachel is best for me, she and musicians who come to the department."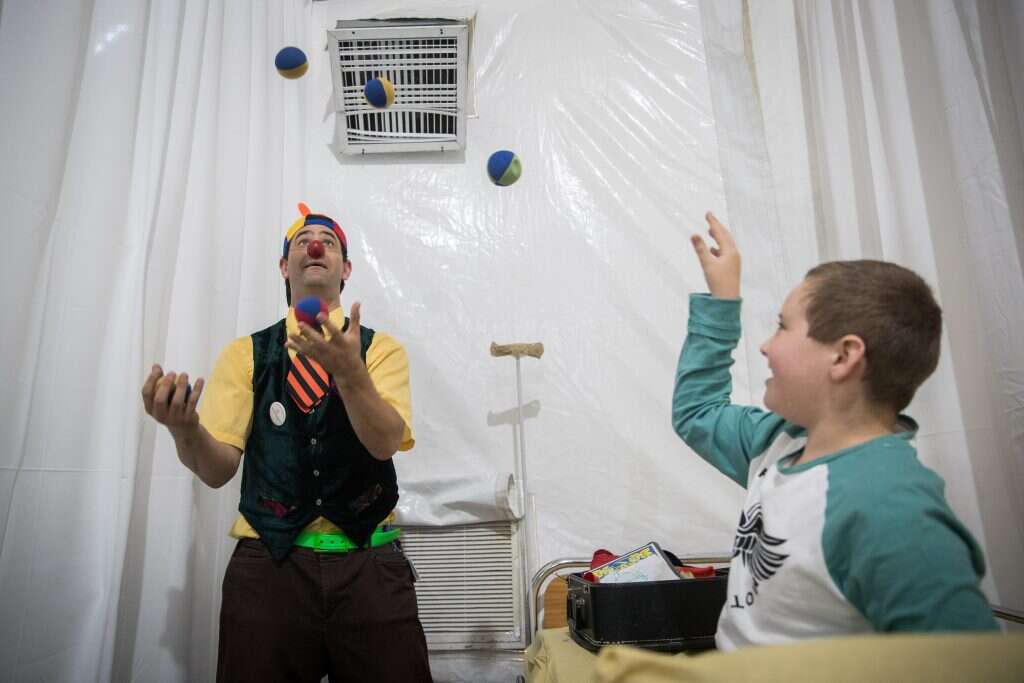 Shavit relates that the department's staff initially treated her as someone who "passed the patients on time" during the long and exhausting dialysis treatments. So they still did not understand the function it was filling. Today the doctors and nurses already identify which patients need spiritual accompaniment, and invite her to him. "Until a few generations ago, when the religious and the spiritual were also healers, medicine itself included the spiritual dimension," she says. "So many studies show the connection between body and mind, and you can not ignore it."
A spring that stretches each time
From dialysis we continue to the hemato-oncology department. "Sometimes a sick person whose days are numbered is lying in this ward," says Shavit. "He says, 'I'm afraid of dying' – and his family does not relate to the content of the things, but opposes the very idea of ​​him dying … They say to him, 'Why are you talking like that? To deal with what is to come, she says to her, 'Fight!' "It's true that it comes out of love and out of fear of separation, but the daughter needs the separation talk, and she tries to talk, and the mother refuses to part."
Why is this happening? 
"Western culture does not talk about death, we are helpless in front of it, we have no control over its time and its place, we do not know what will happen after it, this fear causes very tense and hysterical reactions, Together, the grandfather died and the mother gave birth in the same place and time.
"Even when it comes to a dying patient, I'm not going to solve the problem or save it, I'm coming to be with who he is and what he has, it makes the difference between being alone in a dark room and being in the same room when someone gives you a hand."
And when you see a family denying the approaching death, do not you have a strong urge to intervene? 
"I learned to respect the limits of people, and it is true not only in a situation of death, but sometimes I do intervene gently, for example I met a girl whose sister, who was very close to her, completely denied death that would come within a day or two. And I was completely out of sync with the reality, I checked with the staff to tell her what was the situation, and told me she was fully aware, so I intervened, telling the patient that now was the time to decide whether to continue fighting, If she said she wanted to fight, I would go with her, I do not come with an agenda, I 'm accompanied, it' s like a pool you 're very afraid of. If I jump first, it will look different to you. "
But you're not dead. 
"Yes, but I'm not afraid, I'm there, giving a hand, sometimes even throwing a joke, I know it's all right and it's part of life.
"I will tell you another story: I accompanied a prisoner who was convicted of the murder of one of his family, and some of the family has not been in contact with him since then … I will not come and ask him to forgive him, but I told him that even if they did not forgive, he was always a father. He wrote to them, called and sent them money, and I gave him the feeling that he did something good after all. "
The fascinating conversation is interrupted because soon we will not be able to enter the ward, and the patients are waiting for the comet. We approach Bracha Succah (86) from Kibbutz Mashavei Sadeh, who is suffering from cancer. Next to her sits Shmuel, her husband. "I want the suffering to stop," Bracha says with a sad face. "Every time I hurt another place, another organ is silent, my stomach is swollen and painful, my whole left side is paralyzed, I did not want to go to treatment today, my family forced me."
Rachel Shavit:  "The patient says, 'I am afraid to die' – and his family does not relate to the content of the things, but opposes the very idea. Or a mother standing by her dying daughter, and instead of taking advantage of these moments to deal with what is to come, she says to her, 'Fight!' The daughter needs the parting call, she tries to talk, and the mother refuses to say goodbye "
"The treatment is what keeps you on your feet," says Shmuel and turns to us. "She's always pessimistic. I'm optimistic by nature."
"Bracha was very active," Shavit begins to tell, and the patient does not let her go on: "But in recent years I have fallen."
"Shmuel," turns Shavit to his partner, a writer and poet by profession, "Have you ever written a poem about a blessing?"
Shmuel: "I did not write a poem about her, but she is in my songs."
Bracha: "He's not healthy either."
Shmuel: "Well, she's already eulogizing me."
Oh, I feel like I'm suffocating, the injection they give me now, how painful it is, I do not know what will happen to me, I keep thinking about what will happen in the end, on the one hand it frightens me, on the other hand, I already want My hand hurts, my stomach hurts, my head squeezes me terribly. "
Shmuel: "Blessing exaggerates her pain."
"I feel that because you are in great pain, and you are limited – you think you're not worth it," says Shavit. "You even told me that your family wanted to throw you in. If you met an eighty-year-old man who for sixty years was active and donated and gave everything he could to his family, what would you say to him to encourage him when he was ill? Of the 86 years that you have been in this world for many years, you have been a wonderful woman and a dedicated mother, you have done a great deal in the world, you may have forgotten, but Shmuel and the children remember, you have left a mark on them, they will not throw you in the trash. What you do not want, they want to know what's good for you. "
Bracha: "There is nothing that is good for me."
Shavit: "But at least there will be something that is not good for you, because you do not like yourself right now, do not say that others do not love you, this fear adds a lot of pain and tension to you, I appreciate the fact that you are dealing with these pains, So now I promise you in the name of Shmuel: They will not do anything to you that you do not want. "
Bracha: "What will they do with me?"
Shavit: "When a patient reaches a situation where there is nothing more to be done, he can choose to be at home, with a hospice staff, do you understand that you want to end your life at home?"
Shmuel: "She is not going to end her life, she will finish after me, she has such a spring that every time he stretches a little more."
Shavit: "Bracha is trying to share with us the fear that exists in her." Shmuel, you said that you see hospitalization in a hospital hospice as a signature on the end of yourself. "
Shmuel: "Then she'll be at the hospice at home."
When Shavit asks how long they have been together, Shmuel replies, "Time does not matter, it stretches and shortens like chewing gum, and death hates us and leaves us here."
Bracha: "He too says he wants to die already."
Shavit: "Sometimes wanting to die is simply to want to stop the suffering, and the thought of death is difficult, because it is unexpected and unknown."
The chuppah also needs escort
Hospitals, as noted, are not the only arena of activity for spiritual care providers. Deborah Pinto, 58, who also teaches to train escorts, works in an old-age home where she meets with the dying and with residents suffering from dementia. "I'm trying to build for those seniors a safe place," she says. "I send them a willingness to be with them wherever they want, and they do not have to worry."
What is the goal in working with suffering from dementia? 
"They should feel less lonely, not only for them, but for all of us." At the end of the school year, one of us, who was about to get married, said that she felt she needed a spiritual escort, and that we learned so much. Ready and able to be with you at the significant points of your life. "
Are you always capable? 
"No, but that's the aspiration … In the class we talked about the binding boundaries we have as escorts, and my ambition is to expand the boundaries."
Do you feel that you are also receiving something from the patients? 
"In fact, I get a lot more than I give, it's not just a trial, and if it was not like that, I would not be able to continue."
Do you break down sometimes? 
"Yes, but less than I thought I would break, and once a week I visit our patients from the nursing home in hospitals, and on the last visit I was told that someone dear to us goes to the hospice, and I found myself crying. In my personal life I cry without a problem, but when I'm on duty – I'm completely professional – the nurse who told me about it said she was sorry, and suddenly I felt a melo. "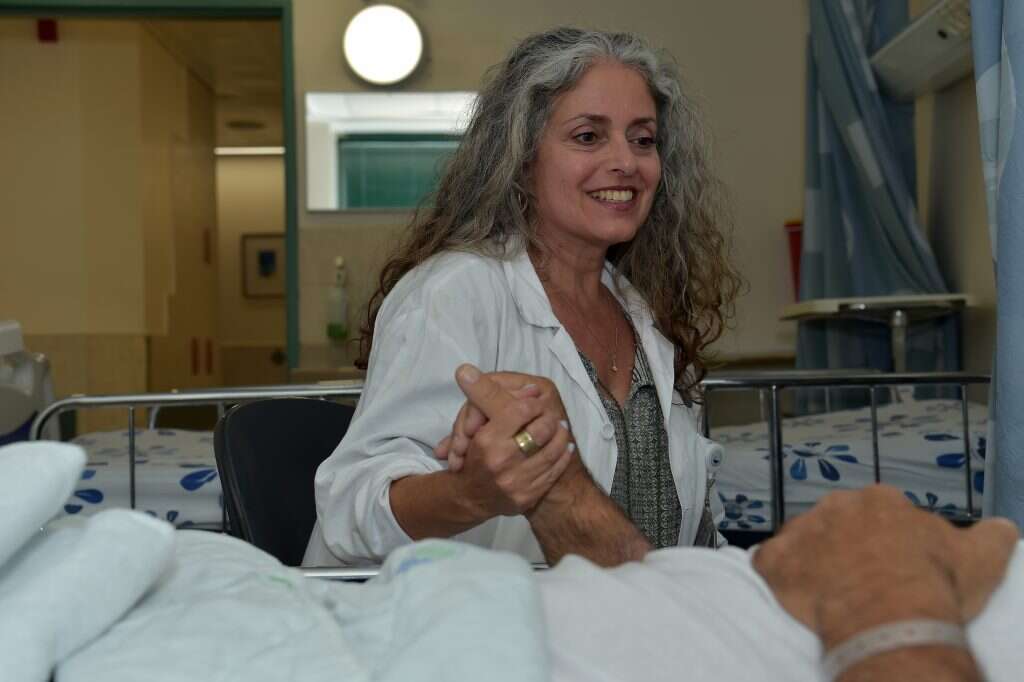 When people are aware of approaching death, your work with them is easier? 
"There was someone who came to the old age home when she was so organized towards the end of her life, and with her I had no work at all, everything was closed and solved … Of course there are people who are a bigger challenge, some with whom we will not even talk about death or the end of life, But you can experience the stage they're going through together.
"I believe that people who are at the end of their lives understand this, and if they can not talk, it is because we have great youth and do not want to deal with death," he said. But the people who find it hard to work with are those who believe there is nothing beyond death – I do believe that there is something there, that this is not the end of the story. "
what is there? 
"I do not have anything orderly or scientific, it's not from the head but from the heart, you can not understand it, but I believe there is life afterward."
And yet, here there is a parting. 
"Yes, but the knowledge that there is a continuation is very helpful to me in the process – I have to be able to speak, I offer very gently, otherwise I feel I missed."
How do you do that? 
In one of my visits, I saw the whole family, and according to the atmosphere in the room, I understood that one of the staff members had told them something, and I went to her son and asked permission to talk to him in private. When the family left, I sat with him and suggested that it was a good time to talk to my mother, and I helped him do something that in retrospect was very significant for him.
It seems that in this work you have to completely eliminate your ego and be a conduit for the desires of others. 
"Yes, that's the ambition: to be as neutral as possible, but I'm a human being, and without realizing it, I bring myself in. My neutrality is limited."
What is your main message to families of dying patients? 
"The mother of the family is stressed, it does not give way to death, she has to somehow calm herself, and this is my job with her. What we need is to think about how we release our beloved. "